ESPN's Keith Law
has released his Top 10 Prospects list for each American League East club. His top five Blue Jays prospects are pitchers and has seven hurlers rated among his top 10. The Jays did not fare very well in his farm system ranking.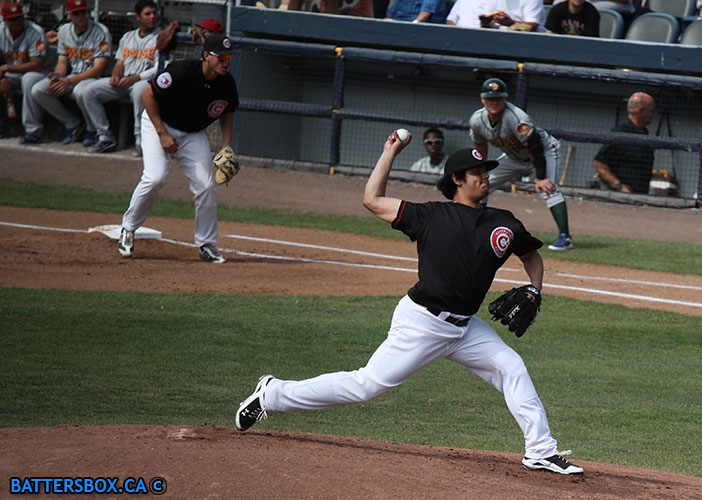 No. 2 and trying harder: Roberto Osuna
was
Keith Law
's number two Blue Jays prospect. The Mexican righty just turned 18 today.
In the
ESPN Insider
article
, Law ranked the Jays 24th overall and last in the AL East. Tampa Bay was rated third, the New York Yankees were 10th, Baltimore was 13th and Boston placed 17th.
Law's Top 10 Jays prospects list...
Aaron Sanchez, RHP
Roberto Osuna, RHP
Marcus Stroman, RHP
Sean Nolin, LHP
Matt Smoral, LHP
Anthony Alford, OF
D.J. Davis, OF
Adonys Cardona, RHP
Chase DeJong, RHP
Santiago Nessy, C
Other players noted by Law were RHP
John Stilson
, OF
Kevin Pillar
and LHP
Daniel Norris
. In Law's
Top 100
prospects list — another ESPN Insider piece — Sanchez was rated 19th while Osuna ranked 87th. Law also has a video feature of the American League prospects he feels will
break out
in 2013.
---
Continuing with all things Keith Law, he is to appear with
Eric Karabell
for the final podcast of
ESPN Baseball Today
. It was announced on last week's podcast that Baseball Today will be replaced by another podcast —
ESPN Baseball Tonight
— hosted by
Buster Olney
. Though I felt the podcast was not the same after the
ouster
of
Peter Pascarelli
— who joked about commissioner
Bud Selig
's statue in Milwaukee being a good target for bird crap — it was something I faithfully listened to all year round, especially during the off-season. Does anyone else tune in to this podcast? What other baseball-related podcasts do you listen to? The floor is yours.